Spring 2008 trends bring forward the big, bold necklace as the fashion accessory of the season. The latest scoop is the necklace with five pointed stars pendants or with chunky crystals/ gems that look like pieces of a meteorite.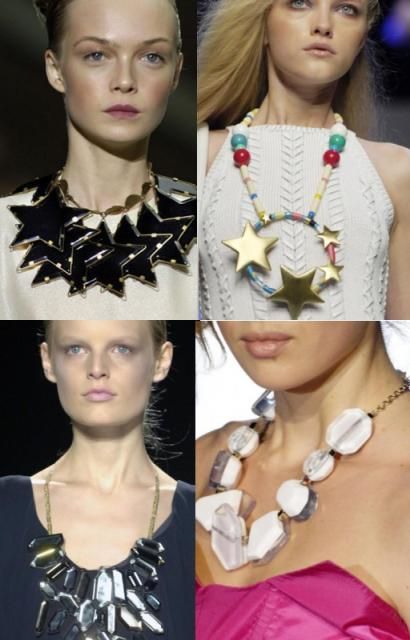 First row: Yves Saint Laurent and Emilio Pucci.
Second row: Vera Wang and Dsquared.
A colorful plastic necklace is a playful chic fashion statement.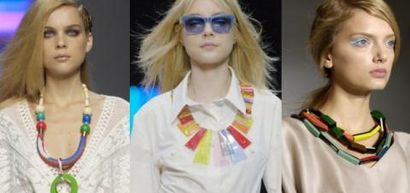 Emilio Pucci, Karl Lagerfeld and Marni.
A large pendant with an unexpected shape will surely stand out of the crowd.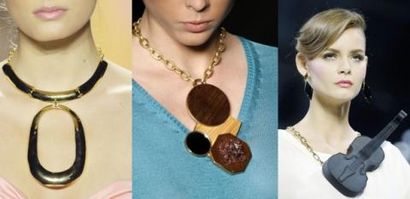 Michael Kors, Missoni and Viktor&Rolf.
And...you can always bet on multi string beads, pearls and chains necklaces. They add a glam twist to any outfit, no matter how simple it is.
Dries Van Noten, Dsquared and Peter Som.
Your waist will be in the middle of everyone's attention once more so make sure you fill your wardrobe with a lot more belts: one inch thin, obi-like or men's style slick looking belts.
1.thin belts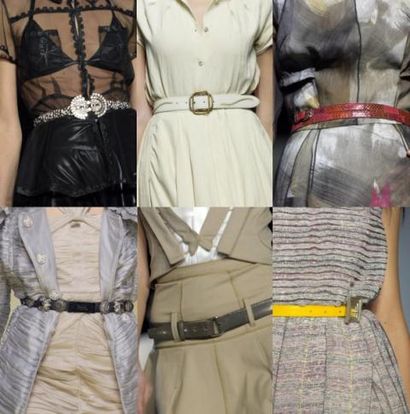 First row: Anna Sui, Bottega Veneta and Dolce&Gabbana. Second row: Burberry Prorsum, Zac Posen and Peter Som.
2. Wide belts
First row: Alessandro Dell´Acqua, Jean Paul Gaultier and Alexander McQueen. Second row: Christian Lacroix, Emilio Pucci and Gucci.

3. Men's belts
Marc by Marc Jacobs, Yves Saint Laurent and Peter Som.