Audrey Hepburn captivated the audiences with her slender figure, aristocratic manners and graceful movements, representing not only a new look but also a new femininity. With her boyish body, pixie haircut and swan neck she complemented everything she wore.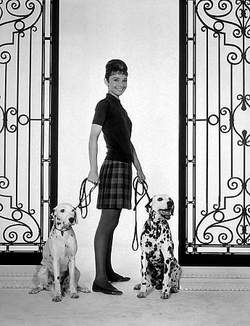 Audrey Style
The elegant Audrey was the complete opposite of some of her contemporaries as Marilyn Monroe or Elizabeth Taylor, because, by fifties standards, she was too tall and too skinny.
Her look was entirely original and rather than creating false curves, her clothes accentuated her slenderness. Audrey was a captivating combination of glamour and sophistication with innocence and fragility.
You can have Audrey's look with this polished cashmere sweater and this mini pleated plaid skirt which i found on banana republic.
Audrey was a fashion icon of both Fifties and Sixties decade and still, she inspires us with her stylish fashion choices.
Hepburn Choose for this winter a creamy white coat and a fluffy beret from Dorothy Perkins

and add this beautiful zebra print scarf for a little wild touch.