One of my favorite collections for spring/summer 2013 belongs to the innovative clothing line of Tokyo-based label Beautiful People. Hidenori Kumakiri, a graduate of Bunka Fashion College, the Apparel Technology Department, worked as a pattern maker at COMME des GARÇONS and in 2004 founded Entertainment Ltd., an outsourcing pattern company. Beautiful People, as a fashion label for both women and men, launched in 2007 with a spring/summer collection. In 2011 Hidenori Kumakiri opened his first retail store in Omotesando, Tokyo.
Beautiful People spring/summer 2013 lookbook
At a first glance the clothes have an easy, casual feeling, but their subtle details tell about the intellectual process of their design. Through his creations the designer wants to push forward a new set of values and inspire the wearer with new motivation and perspective of life. So it is true that "the clothes make the man", after all.
Trend-wise, Beautiful People spring/summer 2013 collection offers novel versions of this season's representative clothing items and wardrobe classics such as the leather biker jacket, the slim jeans, the A-line skirt, the army-inspired overcoat and trench, the pant suit or the abstract collage print.
The designer focused on the ideal mix of modern western fashion staples (tuxedo blazer or Chanel jacket) with Japanese traditional clothing of the Edo period (a time of arts and crafts flourishing). The Kimono, the monk shirt or the craftsmen attire are stylishly reinterpreted for the modern woman. The drop-shoulder oversized shirts and pleated tapered trousers are two of the Beautiful People designs that give a glimpse of past fashions in a very stylish way.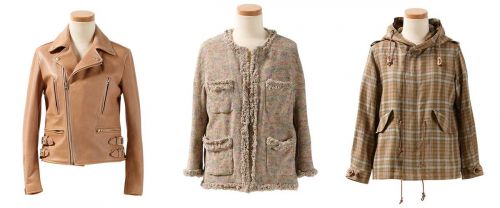 All prints have special meaning in Nippon culture: the mystical crane, the blue iris flower, a symbol of bravery; there is also the floral print inspired by Japanese traditional paper designs, a jacquard pattern inspired by Oshima Tsumugi (Japanese silk fabric) dyed ikat and a color-infused tortoise shell pattern that is a refreshing alternative to camo and leopard print.
The airy, soft fabrics follow the same idea of joined worlds - natural fibers fused with modern technologies: silk and cotton jacquard, mercerized linen, silk and linen moleskine, georgette silk satin or cotton voile.
credit photos: www.beautiful-people.jp
Submitted by
hautfashion
on Fri, 03/20/2020 - 07:22
---