New York Fashion Week just ended and left us fashion addicts to day dream until next fall. It's quite hard to classify them into season's top collections as there were many great design ideas and color combinations. So I just turned to my favorite designers this time.
3.1 Phillip Lim always manages to deliver versatile designs. I love how he uses soft fabrics like silk, suede, jersey but also raw denim and creates cool, urban but very feminine and grown-up looks. And by grown-up I don't not mean dull...just look at that gorgeous tiny grey leather jacket worn with that wonderful bohemian maxi dress.
3.1 Phillip Lim fall 2008
Proenza Schouler's pre-fall 2008 collection was a mere prelude to the New York Fashion Week show. I think the two designers wanted to let their high skills recognized with these carefully constructed designs: doubled silk shifts, folded jackets worn with contrast-color stockings and bright hued pumps or slouchy trousers. The collection uses a beautiful color palette, including metallics but also bright white.
Proenza Schouler fall 2008
Vera Wang's collection was influenced in most part by street fashion, with her layered silhouettes looking edgier. And, by manipulating fabrics, felt and organza mostly, into rich florets and ruffles the designer proves her love and skills for details and perfect finishes. Luxurious sequined dresses were still there, with a silver sequined maxi dress is teamed up with a bright orange cropped jacket.
Vera Wang fall 2008
The two designers from Rodarte, sisters Kate and Laura Mulleavy continued their spring 2008 direction but, this time, the pastel colored knitwear goes more gothic, with torn-web stockings and extreme high-heeled spiked/studded shoes. Artistic references drove to wonderful abstract-constructed corsages, full skirted cocktail dresses and sheer maxi gown that looked like hand-painted. Apart from evening looks there were also great day-wear, my favorites being those shiny three-quarter length zip-pocket pants worn with short knit jackets.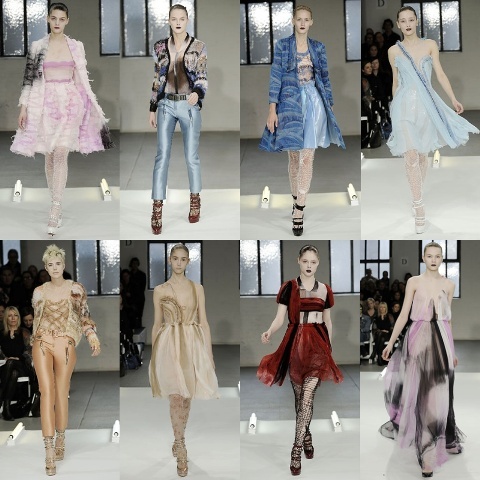 Rodarte fall 2008
What I love about Derek Lam's fall 2008 collection is the sharp tailoring mixed with romantic lace, ruffles and sequined tulle. The color palette is great also; I kind of fancy those subtle shades of antique gold, brown and purple. And...I think I spotted a fall 2008 trend: the leather jacket teamed with a full-length sheer dress.
Derek Lam fall 2008