Fall 2008 fashion shows have already begun and in this crazy and wonderful spin from rtw to resort to couture and again to ready-to-wear I took a peak at the pre-fall shows that ended just two weeks ago. If these pre-shows are meant to predict next season's trends, well, I have to say it looks like we'll have a smart sophisticated fall season, with structured silhouettes and muted metallic shades or rich, autumn floral hues. 'Seasonless clothes' says Michael Kors, great next vintage buys, I'd add.
Here is a list of my pre-fall faves.
I love these cropped jackets at Akris and the cream beige - soft gray color combination.
Akris pre-fall 2008
Structured jackets and square toe platform booties at Balenciaga. Glad to see skinny jeans are still in favor.
Balenciaga pre-fall 2008
Bell shapes, muted metallics and leather trenches at Burberry.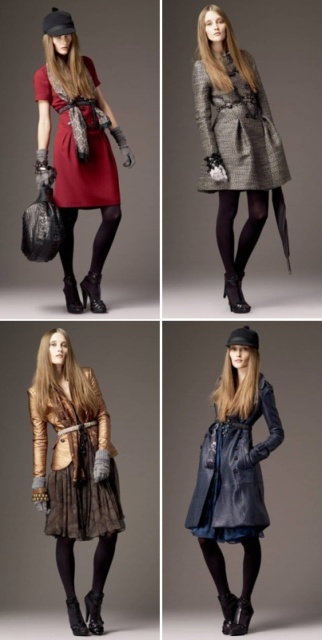 Burberry pre-fall 2008
Bohemian armony at Chloé and autumn medley basket at Missoni.
Chloé pre-fall 2008
Missoni pre-fall 2008
Sleek city looks at Michael Kors.
Michael Kors pre-fall 2008
Polished, sharp silhouettes at Proenza Schouler. Bracelet sleeves, shrunken jackets give an elegant layered look.
Proenza Schouler pre-fall 2008