The news this season is the Android Look, aka Space Age or Space Odyssey trend as I have seen it mentioned in many fashion magazines and websites.
The key word to this trend is "shiny". Or more appropriate, "glossy". This new look means a narrow boyish silhouette, with geometric cuts and harder fabrics in shiny metallic or patent gloss hues.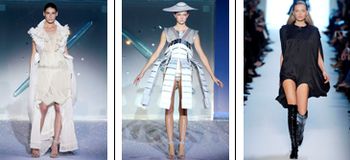 Some designer took inspiration from the 60s cult movie Barbarella and sent down on the runway space goddesses, others gave a more androgynous note, played up by black fluid "Darth Vader" capes. Metallic leggings complete the robot-like appearance.
Colors: the futuristic feel is set by severe shades of white, black, silver and gold.