The business look is yet again fashionable. This means fresh new styles of the Two Piece Skirt Suit and various outfits for women that spend a lot of time at work.
You can choose from 60's inspired suit with three quarter sleeve jacket and straight skirt to 80s power woman look and to new millennium casual suit teamed up with turtle neck fine sweaters.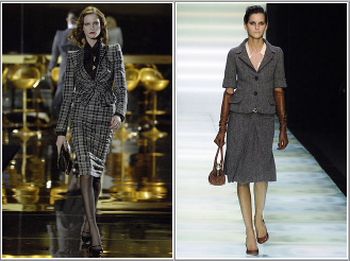 Winter office fashion
I especially like these two outfits from Nordstrom; they're more on my taste, more casual but yet appropriate for any office working environment. I love the chic touch of the delicate feminine bow and the relaxed look of the knit vest.
Best accessory for these outfits: a big manly wrist watch like this one (Fossil Men's Sport Chronograph Bracelet Watch), also from Nordstrom.
Winter office fashion