Latest Atelier Versace collection showed some gorgeous long gowns, fit for the red carpet: draping, pleats, long mermaid-y tails in white, black and striking shades of red, copper, turquoise or midnight blue.
Donatella Versace presented the spring 2008 collection of her couture line in the discreet setting of Versace Paris boutique's back room. Fifteen gowns were shown, many of them red carpet material. The Atelier Versace line took serious steps forward in terms of sophistication, taste, and fabrics.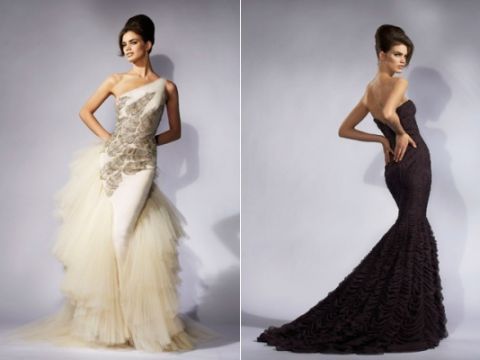 The collection put more emphasis on cut and volume: draping, pleats, ruches than on embellishments the result being a polished, sophisticated look. There's a good use of color also. The best pieces include the black siren gown with a frilled long mermaid tail and the red one with draping and pleats spiraling into an extravagant skirt.