"The Lesson", a photo shoot featuring in this month's issue of Elle Romania, focuses on a post-modern Lolita look, inspired by one very well known absurd play. The February 2008 issue of Elle Magazine (Romanian edition) features a lovely fashion note inspired by Eugene Ionesco' s notorious absurd play "The Lesson". The 'post-modern Lolita' look is easily built up with this season's key fashion accessories such as those superb platform suede shoes from Kenzo.
Photographer: Jesus Alonso.
Model: Simona Dascalu/Allure Models.
Fashion editors: Domnica Margescu and Maurice Munteanu.

Silk, latex and tulle dress by Jean Paul Gaultier, Max Mara cashmere jacket and leather belt, Kenzo suede shoes.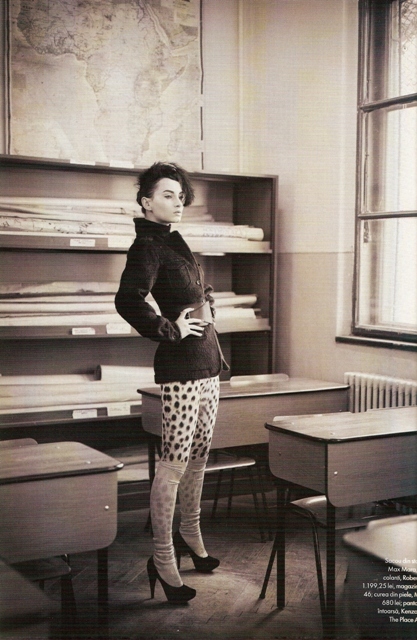 Max Mara blazer and leather belt, Roberto Cavalli leggings, Kenzo suede platform shoes.
Alexander McQueen latex dress, Max Mara cotton cardigan, Avin plastic belt, Kenzo suede shoes.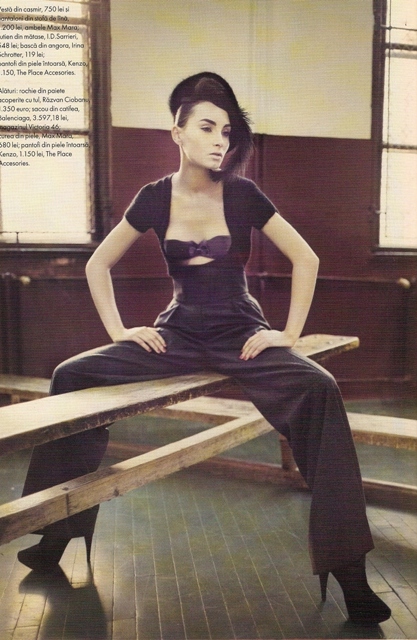 Max Mara cashmere vest and wool trousers, silk bra by I.D. Sarrieri, Irina Schrotter angora hat and Kenzo suede shoes.

Sequins and tulle dress by Razvan Ciobanu, Balenciaga velvet blazer, Max Mara leather belt and Kenzo suede shoes.

Viktor&Rolf linen shirt, Givenchy wool skirt, Roberto Cavalli jacket, Max Mara leather belt, Ana Alexe wool hat and silk scarf.
Ana Alexe wool dress, Yves Saint Laurent silk jacket, Kenzo suede shoes.